Mitsubishi UFJ Trust International Limited
Mitsubishi UFJ Trust International Limited
Mitsubishi UFJ Trust International Limited (MUTI; previously Mitsubishi Trust International Limited) was incorporated in 1985, as a wholly owned MUTB subsidiary at the time. MUTI has established a strong reputation mainly in the field of securities dealing and securities lending business for the Group's member companies. MUTI adopted its current corporate name on October 1, 2005 following the merger of its parent companies. As a member of Mitsubishi UFJ Financial Group ("MUFG"), one of MUTI's core functions is to act as the agent / principal for the Group's securities lending business in Europe, following an internal reorganization of MUFG overseas office operations in 2007.
Services
MUTI has been expanding its securities lending business in recent years.
MUTI's focus is on delivering competitive performance. It maintains strong relationships with its trading counterparties, and is always ready to embrace new opportunities that enhance profitability and efficiency.
Main services: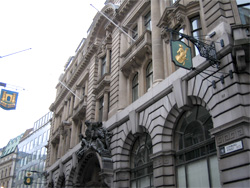 Equity Lending
Bond Lending
Repo
Pillar 3 Disclosures Document
Pillar 3 Disclosures Document 2012 (133KB)

Contact Us
Mitsubishi UFJ Trust International Limited
Address:
24 Lombard Street, London EC3V 9AJ, U.K.
Phone:
20-7929-2866 (Main)
20-7283-5862 (Fax)