Value Proposition
The Trust Bank's strengths lie in its consulting capability combining trust functions with banking functions, and its high degree of specialization and product development capability grounded in long years of experience.

Consulting Capability Combining Trust Functions and Banking Functions
Financing Service / Treasury / Deposit / Retail Banking
Real Estate Brokerage / Property Trust / Stock Transfer Agency /
Asset Management / Asset Administration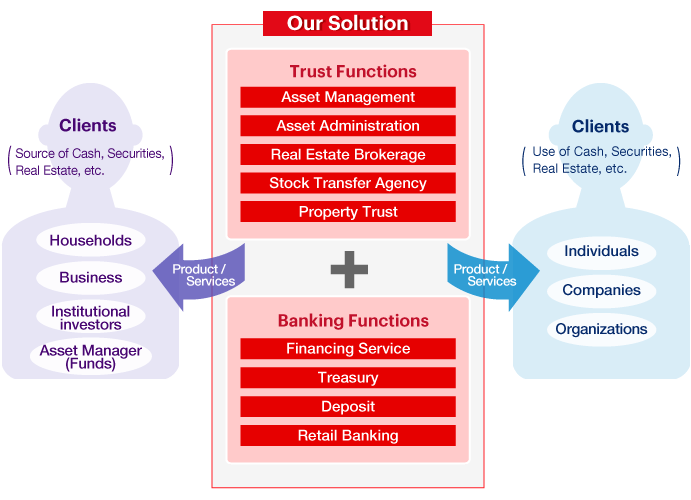 Specialization and Product Development Capability Grounded in Experience
Issues facing management these days vary from preparing for a stock listing, to real estate acquisition for business expansion, pension plan implementation and solutions to pension reserve shortfalls, clerical efficiency improvements, environmental initiatives, and more.
The Trust Bank provides seamless and organic solutions to these issues corporate clients face, in ways only a highly specialized trust bank with strong product development capabilities can.
The Trust Bank as a management partner can assist corporate clients in many ways to enhance corporate value.
Trust Assets Business
A forward-looking, proposals-driven consulting service, combining financial product solutions, in scope with anticipated changes in the investment environment and accounting system.
A service integrating the three main functions of 1) pension plan consulting, 2) asset management, and 3) asset administration.
Real Estate Business
Database marketing service linking varied information on certified real estate registers, residential property maps and other data based on the anticipated needs of customers.
Services proposing the effective use of real estate holdings (property sales/lease, etc.) and real estate finance strategies for corporate customers in need of adapting to the international convergence of accounting standards.
Transfer Agency Business
As the largest stock transfer agency in Japan, the Trust Bank leverages the analysis of its extensive data to provide corporate clients with the consulting tool called SR Navi for gathering information on proxy execution and other shareholder information, as well as for building shareholder strategies to increase the number of individual shareholders and meet other needs.
Practical consulting services on corporate legal affairs, preparing for general shareholders' meetings, the utilization of treasury stock and other matters.