Asset Management
Business in MUFG
MUFG Asset Management and
First Sentier Investors
Being one of the largest asset managers in Japan, MUFG Asset Management*1 has its main operations in Japan. It has competitive strengths especially in the management of Japanese and Asian equity assets.
First Sentier Investors, known as First State Investments outside of Australia, is a global asset management company comprising operations across Australia, Asia, Europe and the US. It offers specialist investment strategies across equities, fixed income, multi-asset solutions and infrastructure.
*1 MUFG Asset Management is a brand of Mitsubishi UFJ Trust and Banking Corporation, along with its subsidiaries, Mitsubishi UFJ Kokusai Asset Management Co., Ltd., MU Investments Co., Ltd., and Mitsubishi UFJ Asset Management (UK) Ltd.
Asset Under Management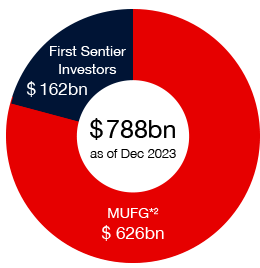 *2 Total AuM of MUFG's asset management subsidiaries and affiliate companies
Offering distinguished and competitive investment products

Advantages of
MUFG Asset Management
One of the largest integrated asset management groups in Japan, with competitive advantages in management of Japanese and Asian assets
Mitsubishi UFJ Trust and Banking Corporation has a long history in the Japanese pension market. Mitsubishi UFJ Kokusai Asset Management Co., Ltd. has its origins in one of the oldest mutual funds in Japan

Advantages of
First Sentier Investors
Global asset manager with specialist capabilities including global emerging markets, Asia Pacific equities, Australian equities, listed and direct infrastructure, fixed income, cash and multi-asset solutions
Robust client base in global markets such as Australia, EMEA, Asia and the US